Learning and Development Programmes
As learning and development specialists we understand the challenges organisations face in ensuring that your people are performing to the best of their ability at all times. Your people should be your competitive edge.

ProFormance has expertise in change management – we know how to make good ideas happen.

We will work with you to design learning and development programmes that your people want to be part of and one that will move them from their current behaviour to a new desired behaviour that will achieve the results you strive for.

By training in-house, proprietary information can be discussed openly and used to maximise learning and development and build consistent terminology and principles across your team. This interactive in-house training becomes a team-building experience that participants enjoy and value.
"I've just had a mid-cycle meeting with my team this week and I wanted to tell you how effective and lasting the results of your work with them this year have been. They all spoke about how they have modified their calls for the better and have made long-lasting changes to their day to day activities especially in the areas of assertiveness and handling group calls!"
Sales and Marketing Manager, leading international pharmaceutical company
"I have worked with Proformance now for 8 years both as a Sales Representative and as a Sales Manager so have experienced the training from 2 different angles.  As a Representative it is practical, immediately useful and tailored to your industry needs.  As a Manager I found the pre training discussions with the team and myself to be of most use as the training was perfectly tailored to each of the divisions needs with feedback being that 'This was one of the BEST courses the teams had ever done.'"
Douglas Pharmaceuticals Ltd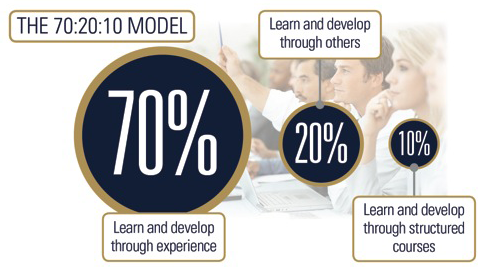 Based on research from the Corporate Leadership Council, the difference between training and learning becomes clear. 70% of learning comes from on the job experiences, 20% from 'significant others' and only 10% from formal classroom training.

All training workshops need to be supported with learning from others (coaches, mentors, colleagues) and on the job experiences.

We believe the most effective development programme is to design, develop and facilitate workshops, after which there is a combination of activities to embed the learning. Supporting your leaders to be effective coaches is a crucial part of a successful development programme. We ensure that your leaders are upskilled to be confident and competent coaches. Working with you we determine which will work best for your team and may include and are not limited to:

Conference calls, webinars, video conferencing, Skype etc
Assignments, projects and exercises
On-line learning
Reading recommended texts
Follow up 'text tips', motivational emails etc
Quizzes
Buddy system set up for all participants
In-field coaching
Follow-on workshops based on a 'stepped learning' approach