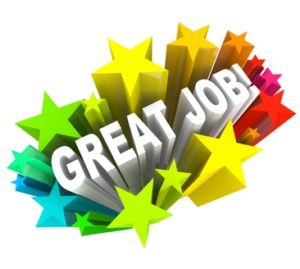 Whether you're the CEO of an international corporation, the owner of a small business or manager of a team, you will know that productivity depends upon your employee's motivation and positivity. If only we could keep them motivated daily. While each employee is different, one Harvard University study found that positive feedback does wonders in the workplace. The study found that each employee, on average, needs to have six positive pieces of feedback for one negative piece of feedback received.
The average ratio for the highest-performing teams was 5.6 (that is, nearly six positive comments for every negative one). The medium-performance teams averaged 1.9 (almost twice as many positive comments than negative ones.) But the average for the low-performing teams, at 0.36 to 1, was almost three negative comments for every positive one.
The Asset-Based Thinking 5:1 Praise to Constructive Feedback Principle gives you a guideline for giving feedback to your employees, consistently and across the board.
How can you achieve this?
Seize the moment – as soon as you observe or hear about an employee's positive behavior, praise them for what they did
Ensure your praise is specific – point out to them exactly what they did that was so great
Describe the impact that this has on the company and/or the customer as this demonstrates why it is so important and valued
Encourage them to keep doing this behavior
This process takes a couple of minutes of your day and means the world to employees. By focusing on the behavior you do want in your team, it lifts the standard in a positive manner.
A little constructive feedback is an essential part of the mix of course. It focusses people on what needs to change – showing it is not going unnoticed and that you are not willing to be complacent in your standards. This feedback needs to be in private, one on one and be objective not personal. Focus on facts and outcomes and ask them how they can do something differently in the future.
When they make a change, remember to praise them! Get that balance of 5:1.
Whether you are sitting down with an employee in your office for an annual review or are working in a collaborative team environment, practice the 5:1 Praise to Constructive Feedback Principle. Each employee is different, with various strengths and weaknesses. While it could be challenging to keep the feedback mostly positive, employing this tactic will help employees retain their engagement with your company, leading to loyalty, motivation and increased job performance.