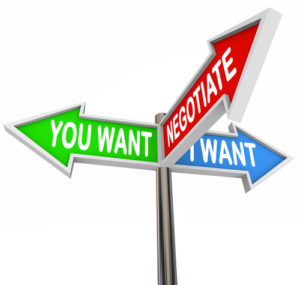 We tend to think of negotiation skills as tools that sales people need, but in fact all of us in business can benefit from having highly honed negotiation skills.
Think of the finance manager negotiating the salary for the new accounts administrator: think marketing manager negotiating advertising fees: or office manager negotiating the rate for the office Christmas party and most certainly the sales person negotiating the sell price of the new product range.
You may hear people say the disclaimer "but I am not a good negotiator." The good news is, everyone can be – negotiation skills are trainable.
Within one week of attending a print industry negotiation workshop, 50% of the participants reported back that they had experienced success with their new negotiation skills and that it had hit straight on to the bottom line of their organisation.
A recent YouGov's survey in the UK reported that the average UK business could increase its profitability by 7 per cent a year through better negotiation. This can be by buying better or selling better.
A few key principles, practiced well can make all the difference:
Identify the other party's decision criteria. Through clever questioning you can uncover what is on their shopping list and be able to rank it in importance to them. What are their non-negotiables?
Know and value your variables – brainstorm all the variables that you have in your shopping basket and know the value to your company and your client. This can enable you to trade variables that have higher value to your client than they do to you e.g. payment terms or freight.
Take time to plan. Use this information to plan a strategy for the negotiation. Stick to the plan and make accurate notes.
Think win/win. Good business practice builds strong long lasting relationships. A quick win at any price is not worth it if you lose the customer in the long term. Work collaboratively towards a mutually acceptable outcome.
Those who attended the recent Negotiation workshop started to put into practice these key principles and found that they really do work!
Contact us to find out how ProFormance can tailor a Negotiation Workshop to suit your organisation's needs.